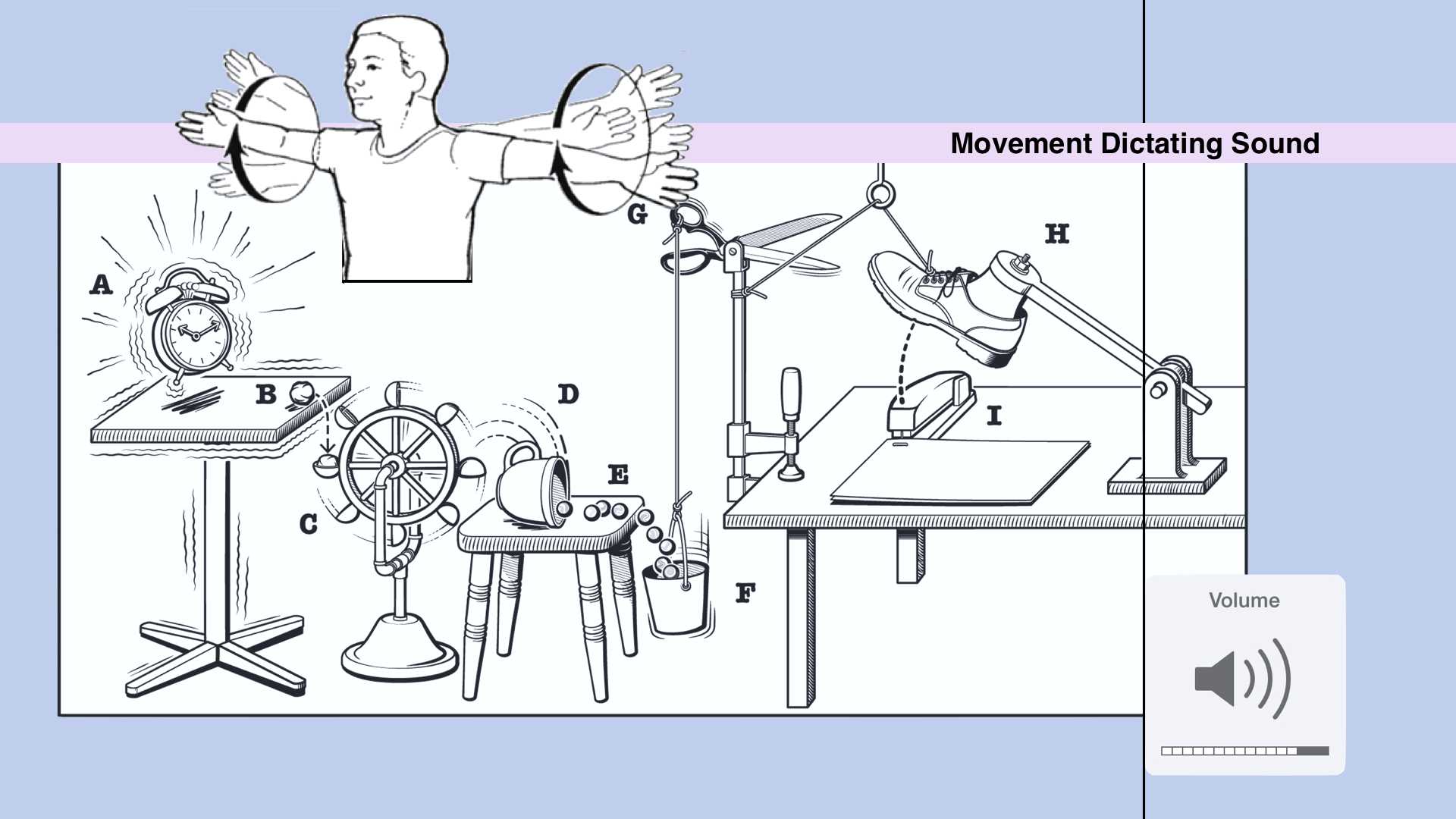 Drawing inspirations from Rube Goldberg cartoons and the Home Alone movie franchise, this project explores sound created by the cause-and-effect relationship between man and machine. It revolves around the ideas of disparity between artificially created and manually created (movement based sound) and utilizes strategies of mechanics and materiality to implement the same.
Machine Movement Audio

00:00
This project, a hybrid of an installation and sound performance, is purely rhythmic and not melodic. Here, objects create dynamic sound based on responsiveness, operating as a chain of events. The concept is sort of akin to "One Man Bands" in which a single person creates music by syncing and connecting their bodily movements to multiple instruments. The created sound stems from the mechanical movement of the gym machine, which helps in creating cyclical, syncopated, and looping rhythm. Additionally, since the performance which creates sound involves movement, it is very apparent to the human ear that these sounds pack energy, and take advantage of the materiality and composition of the objects to optimize their performance.
Coin Cymbal [83 BPM]

00:00

Error Sound [83 BPM]

00:00

Foil [166 BPM]

00:00

Foot Tap [166 BPM]

00:00

Scraping [166 BPM]

00:00

Spray Can [166 BPM]

00:00
Although the outcome of this project slightly missed the mark as compared to what I had envisioned, I think it was beneficial to experiment with setting up, studying, and testing mechanical movements as well as finding suitable materials to create the desired sounds. For me, the concept of my project brought up questions of what it means to create sound using your body. In an age where sound samples, instruments, effects are all digitized and hardly ever manually made, I thought it was interesting to calculatively manufacture sound using your body. The meticulous practical aspect of this project also excited me, knowing well, that creating mechanically induced sounds would warrant thorough physical experimentation.